Eaze Recreational Delivery Review
About
Eaze is a revolutionary technology platform that allows its users to enjoy all the benefits of safe and convenient cannabis delivery. The company is based in San Francisco and it has been successfully operating since 2014. Basically it is an online marketplace where cannabis retailers can offer their products in a compliant and legal way, as a result users can order products from their favorite local dispensary stores and wait at home for the driver to deliver the goods (eaze drivers deliver to most cities in Oregon & California).
Eaze´s mission is to find innovative solutions for a safe, sustainable and successful cannabis ecosystem; they are committed to creating an industry that supports equal access to cannabis products and its benefits. It is worth mentioning that Eaze would not exist without its retailers and brand partners, it is actually the retail partners and their delivery employees that make the magic happen. Cannabis brands use the Eaze platform to boost brand awareness, meet new retail partners and gain new customers. Eaze is changing the landscape of recreational delivery, they work with over 100 licensed brands and so far they have done over 3.5 million legal deliveries.
Benefits of using Eaze
As mentioned before we consider Eaze to be a game changer when it comes to recreational delivery, there are several reasons why anyone would benefit from using Eaze. Below you will find a summary of the main benefits of using Eaze:
1.) $20 off your first order.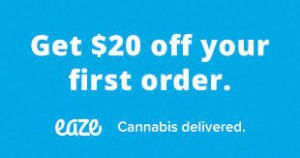 Eaze offers its first time users $20 in free credit. They are so confident in their products and services that they are willing to give new users $20 off.
2.) User friendly & ease to use.
The Eaze app is really straight forward and user friendly; consumers can easily learn about cannabis and browse products. In order to purchase products adults must create an account and go through a quick verification step to verify age (must be 21+) and identity. Once this is done anyone can easily order cannabis products in a safe and transparent way.
3.) Competitive prices
Retailers and brand partners offer competitive prices in order to gain new customers through Eaze. They truly offer the lowest prices in the marijuana delivery field. As mentioned before Eaze works with plenty of dispensary stores and over 100 licensed brands which make it a competitive market and as a result users can enjoy top quality products at a fair price.
4.) Variety of products
the fact that they work with so many dispensary stores and licensed brands allows Eaze to offer its users the biggest variety of cannabis products in the market.
5.) Fast Delivery
Eaze understands the importance of fast delivery which is crucial for consumers. Eaze has developed a unique software that allows real-time tracking. Local retailers receive orders and payments directly from consumers from the Eaze platform, and then they send one of their own delivery employees to complete the sale. You can track every part of your order in real time through the Eaze platform.
6.)Customer support
At Eaze all employees are passionate about cannabis; you can always contact one of their experienced customer support representatives to assist you with your purchase. The Eaze platform is designed to help all customers find exactly what they are looking for.
Trust & Safety
Trust & safety is a key in order to establish a safe, sustainable and successful cannabis ecosystem, they really take this very seriously. The whole process is very secure and transparent, age and identity is verified every single time to ensure safety. They have a robust compliance team that works closely with retailers and brand partners to ensure every product and transaction meets local and state regulations. After all it is their main goal to become a safe and trustworthy platform where customers have access to all the necessary information before placing their orders.

Conclusion
Eaze works with the latest technology and has become one of the leading online platforms when it comes to safe and convenient cannabis delivery. It works only with well-established and high quality retailers and brand partners in order to offer their customers the best of the best. Their years of experience in the cannabis industry, high-quality products and top notch customer service, make Eaze a truly reliable platform with amazing deals.