Endoca Review – The Power Of Nature Unleashed?
Today we take a look at another heavyweight brand in the world of CBD. Endoca is one of the most recognized hemp oil brands in the U.S. & Europe as of mid-2020. And it's no wonder, since they have been around for a while…
It all started in 2015, when the founder of Endoca Henry Vincenty made a video "How to make CBD oil at home". This went viral on YouTube and got a staggering 2.3 million views.
Well ok, maybe it's not exactly how Endoca started, but it's definitely a moment that got them a lot of fame.
And for those of us that don't have the time to make their own CBD oil (or don't own a coffee machine), let's take a look at the Endoca product line in a bit more detail.
Full products list
Endoca offers a pretty wide product selection. This features:
CBD Oil (3% & 15% CBD concentration)
CBD Capsules (3% & 15% CBD concentration)
CBD Suppositories (5% CBD concentration)
CBD Extract/Paste (20% & 30% CBD concentration)
Hemp Salve (so pure you can eat it apparently)
CBD Cream & Balm
and CBD Chewing Gum!
Recently Endoca also launched a new product line which is CBD free, and features organic vitamins, minerals, protein powder, and hemp seed oil. This is a nice addition to the already packed product line.
What's the quality like?
All CBD products come with a lab certificate detailing the actual concentrations.
What needs to be highlighted here is that all products are full-spectrum & completely natural. This is where the Endoca slogan "Unlocking the power of nature" comes into play. Their philosophy is centered around bringing to the market a completely natural product – with no flavors (forget sweeteners and other chemicals, all is pure hemp tasting), no additives, and made out of 100% organically grown hemp.
We have no doubt that when it comes to quality, Endoca knows what they are doing. Having a full-spectrum compound enables the delivery of over 80 other natural cannabinoids & terpenes in every single drop. All detailed in the batch reports which are nicely accessible on their website.
From what we were able to find, Endoca sources it's hemp from their own European hemp farms (in Denmark, the Netherlands, Spain & Germany), giving them control over the production quality from start to finish. Hence why they sometimes also refer to their products as being completely seed-to-shelf. This is a big plus, as not many brands out there can offer such quality assurance.
Ok, time to get into some product testing & tasting!
Full-spectrum Oil
The taste is very raw and natural. Quite strong actually. You can really tell the terpene concentration is significant even with the 3% CBD oil, which is exactly what the brand promises and to our pleasant surprise delivered without a twist.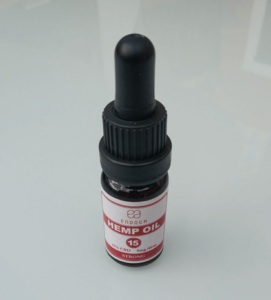 As you climb the concentration level (15% CBD), the oil gets darker in color and comes with a similar natural taste – although stronger.
Also, based on the responses from long term users, each batch has a slightly different taste. This is due to the fact that it is done from a different hemp harvest batch, also including a slightly different terpene, CBDa & CBD+ load. A very good sign that seed-to-shelf is adhered to in their production process.
CBD Capsules
For those who don't appreciate the raw taste of hemp, there is the option to get CBD capsules. These come in the same concentrations – 3% & 15% CBD.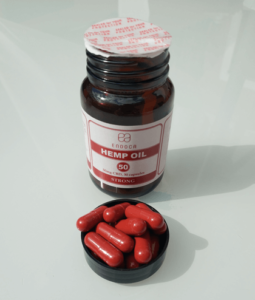 As with capsules generally, they are a bit harder to dose. On the Endoca website, the recommended dosage is 3 capsules a day (not included on the package though) for either concentration. So, you really have to try yourself and see.
One interesting thing we noticed is that after having one, you can start feeling a bit hungry afterward. Probably because you get the oil dose without any absorption "along the way". But this remains to be tried out over a longer period to see if it maybe was just a one-off.
Hemp Salve
It's so natural you can eat it! As Endoca claims. Well, we have no doubt. The salve is very raw & natural-looking indeed!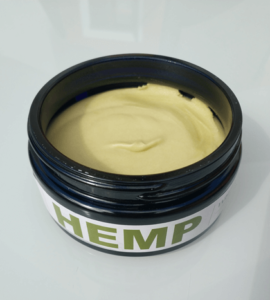 The smell can actually be quite strong even for hemp enthusiast. In fact, it was so strong in our case that we weren't sure if something was wrong with the package. But as it turned out, that's exactly what the salve should be like. As it's not a cream, rather a highly potent natural hemp concentrate. Perfect for sore joints & dry skin.
We will definitely be ordering more products, and completing this review as time passes. Particularly interested in trying out the hemp paste, and chewing gum.
Customer satisfaction
Having an average score of 4.4/5 on Trustpilot & 4.6/5 on Facebook shows a very high level of customer satisfaction.
With CBD it can sometimes be hard to orientate in the vast product selection and concentrations. The Endoca customer service, however, is very friendly and responsive – you can reach them either via Facebook or live chat on the website. No waiting for support emails!
The order process is flawless. No problems for us whatsoever. Even with delivery times being quite unpredictable these days, we got the order in 3 days, amazing speed!
Pricing
We believe that Endoca has one of the most honest and straight forward pricing structures out there. They actually offer a CBD price calculator on their website, where you can calculate the fair price per unit given specific concentrations. So you can check which Endoca product gives you the best bang for your buck, and also, how other brands are doing in comparison.
Here is the price per 1 mg of CBD for the 3% hemp oil – only 0.11$/mg of CBD! (This is actually even lower with our discount coupon!)
After a bit of research, price wise, Endoca is very affordable. Maybe not the cheapest, but price/quality probably the best deal online. For a full-spectrum, no-additives produce, you will have a hard time finding a better deal than Endoca.
Also given that you can save on shipping with larger orders, and that you can get 25% OFF additional when using our Endoca coupon, one doesn't have to think twice whether to give Endoca a try or not.
Conclusion
It's hard to find anything bad about Endoca. Stellar product quality, combined with excellent customer service, shipping times within a couple of days (U.S. & Europe), amazing community & movement altogether – yes, they are very active on social media. Straight forward pricing & very affordable produce.
We will definitely be buying more Endoca for our own personal needs in the future and so should you!