Nuleaf Naturals Pure Oil Review
NuLeaf Naturals Pure Full-Spectrum CBD Oil
Founded in 2014, NuLeaf Naturals was created by a group of plant medicine and health conscious aficionados that are passionate about CBD oil. Today, one of the top pioneers in hemp companies in the US is NuLeaf Naturals. They make some of the highest-grade CBD product available in the market and gives its costumers an all-natural, lab tested CBD organic oils and extract.
All the wellness products produced by NuLeaf Naturals are made from therapeutic hemp plants specially bred by licensed farms situated in Colorado. Continued enhancement of the natural genetic strains is made through the company's continuous advance cloning programs. This gives customers a guarantee that the products they are getting are safe, regulated and with unequaled potency and consistency.
Now with their new enhanced formula Nuleaf offers a more highly concentrated premium CBD at the same price (60mg/mL potency). They also have a Full-Spectrum CBD oil that can be used for Pets. The hemp plants that NuLeaf Naturals use for their products are non-GMO and come from select farms in Colorado, USA. All their products are guaranteed to be natural, raw, and have no additives or preservatives.
Features of NuLeaf Naturals Pure Full-Spectrum CBD Oil
The NuLeaf Naturals Pure Full-Spectrum CBD Oil prides itself from being 100% organic. The hemp plant that was used is made from Non-GMO plants bred and grown from selected licensed farms in Colorado that free from herbicides, pesticides, or chemical fertilizer. The products are all-natural, raw and have no other added additives or preservatives. NuLeaf Naturals Pure Full-Spectrum CBD Oil is legal in all 50 states and in over 40 countries around the world. It has been rigorously tested in laboratories for quality and purity.
Suggested Use
In order to experience the full effects of the product, it is recommended to place your preferred dose under the tongue for about 30 seconds before completely swallowing it.
So What Makes NuLeaf Naturals Products Stand Out From The Rest?
Pure, Full-Spectrum Extract
NuLeaf Naturals is only one of the few CBD suppliers around the world that offer extracts that have the full spectrum of cannabinoids. Researchers from the Hadassah Medical School at the Hebrew University of Jerusalem had conducted a study to compare the effectiveness of a CBD extract that is completely purified versus an extract from the cannabis flowers that has the full spectrum of components as well as a large percentage of CBD. Results showed that the whole plant extract that has a high CBD content and also has the full spectrum of cannabinoids is more effective than the extract that only has CBD in treating inflammation and pain.
CO2 extraction is used by the NuLeaf Naturals for its products. This is so that no heat would be involved that can have affected the quality negatively or contaminate it with any solvents. All of the cannabinoids as well as the terpenes, essential oils and vitamins B and D are retained using the CO2 extraction method. These components work together in order to maximize the healing progress of the user.
NuLeaf Naturals cannabis oil is 100% organic and non-GMO. This oil is free of additives, preservatives, emulsifiers, and flavors so the oil remains pure and in its natural form.
Rigorous laboratory testing has been done to all cannabis oils offered by NuLeaf naturals to ensure that they are free from over 200 different kinds of pesticides heavy metals, and mycotoxins and to also ensure that each product has the right amount of CBD.
Extracts used in the products of NuLeaf Naturals are from therapeutic hemp plants (Cannabis sativa) bred and grown in Colorado from licensed farms.
Free shipping is given by NuLeaf Naturals on all orders within the USA.
Some Frequently Asked Questions
What Type Of CO2 Extraction Is Used?
The oil is extracted through a combination of both Supercritical and Subcritical methods which allows for the extraction of a complete yield of cannabinoids, terpenes, essential oils, and other phytochemicals that are beneficial and will make a more potent blend.
What Other Ingredients Are In This CBD Oil?
These extract only has 100% organic cold-pressed hemp oil and proprietary full-spectrum CBD concentrate. No are no additives, preservatives, emulsifier or flavorings added to the product as it has only one ingredient which is hemp.
What Other Cannabinoids Are In This CBD Oil?
The NuLeaf Naturals CBD oil has a high concentration of CBD and other cannabinoids that have beneficial effects like CBC, CBG, CBDA, and CBDV. All of these cannabinoids have no psychoactive effects and are still currently being studied by various researchers for all of the benefits that it offers. These cannabinoids work together in order to get what is known as the entourage effects.
What Customers Are Saying
Looking through reviews in NuLeaf will give you a glimpse of how the product is: completely stellar! The feedback from different customers will make you realize that the product is an investment that is worth your time and money.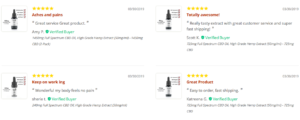 Here are some of the reviews from the review section of the NuLeaf website so you can see for yourself:
"I've been using NuLeaf CBD oil for a few months now. I gave it to my husband for his anxiety during cancer treatment and it helped him tremendously. I suggested my daughter in law try some as well."
Susan P. / Verified Buyer
"I've only been taking this a week, but it seems to be helping me with pain. The taste is good and pure."
Dareen S. / Verified Buyer
"I am getting more sleep now than I have had in decades. I have gone 5 nights and days without sleep which says a lot for how I was feeling. Sleep deprivation is brutal. I am sure I am getting many other healings because I feel so much better. I will not be without my CBD again."
Miriam A. / Verified Buyer
Final Thoughts
Although NuLeaf Naturals may not have a huge inventory of a variety of CBD products, they definitely make up for it with their products' quality. NuLead Naturals products are subjected to strict and rigorous laboratory testing to ensure pure, full-spectrum CBD oil that is 100% organic and free of any additives and preservatives.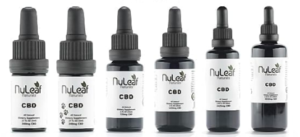 It has been shown that CBD is a naturally occurring compound that is safe and can be used by people who are suffering from inflammation, pain, anxiety, sleep disorders and many more.
A lot of people around the world are now choosing all-natural alternatives for their condition instead of using toxic, over the counter prescription medications which most of the time have adverse effects that are even worse than the conditions that they are trying to treat in the first place. NuLeaf Natural provides people with an all-natural solution through their NuLeaf Naturals Pure Full-Spectrum CBD Oil that is definitely something worth to try!